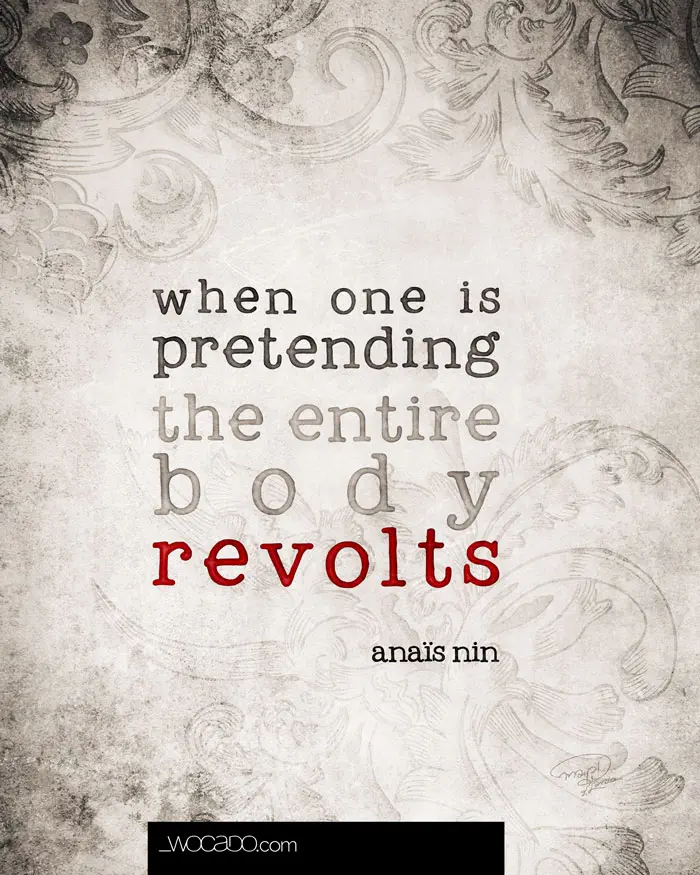 Anaïs Nin Quote

When One is Pretending
the Entire Body Revolts

~Anaïs Nin
50%OFF OFFER
AVAILABLE EXCLUSIVELY TO OUR WOCADO SUBSCRIBERS
[selz link="http://selz.co/1qSsFHe" show_logos="true" text_color="#ffffff" background_color="#ff474d" type="button" position="above" interact="modal"]
File Details:
Size: 8.5 inch x 11 inch ready to print
Theme Size: The actual art theme is 8×10, and there is white border to help you either cut, or frame the print easily
Formats: 1 PDF (1.6MB)
Resolution: 300dpi
* Please note that this listing does not include a physical item. No prints will be mailed.
**Print colors may vary depending on your screen and printer.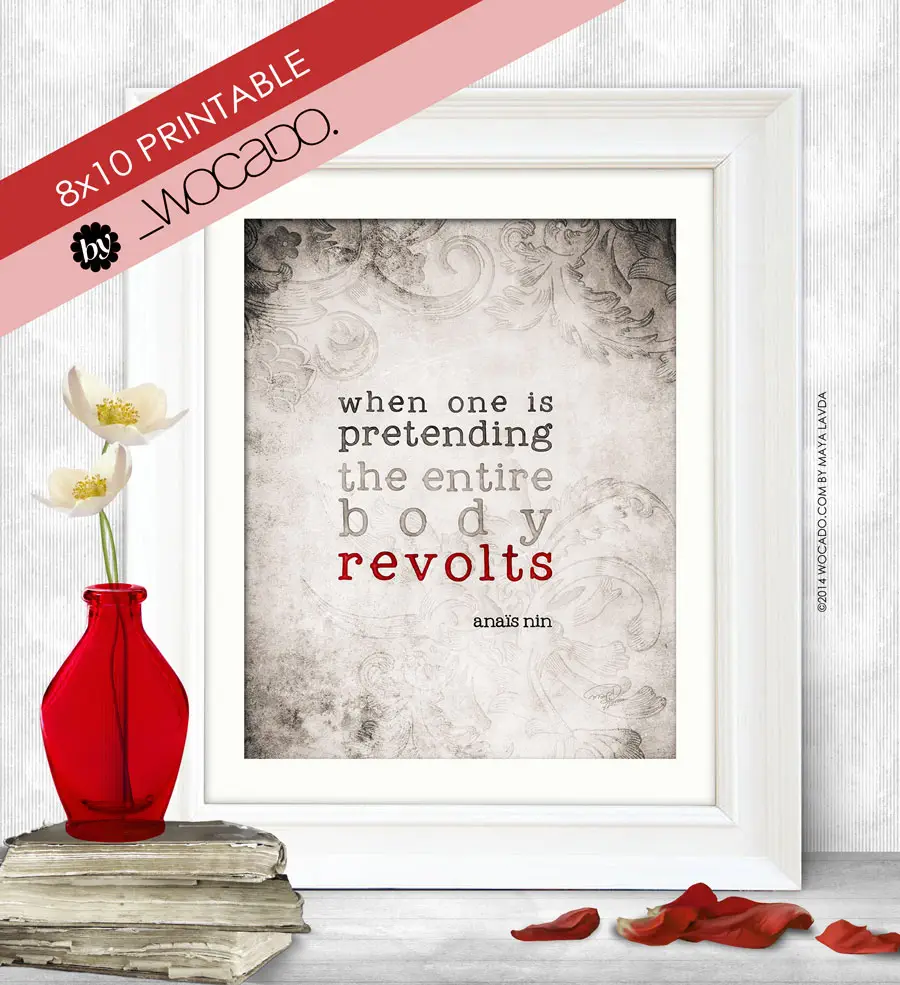 This printable is for personal use only. You can print it for yourself or as a gift for your family or friends but it can not be printed in large quantities or used for any business related purpose. If in doubt, please drop me a line!
NOTE: When clicking on the download link you will be asked for your name and email address and will be added to our list of Wocado Friends. This is a required step to proceed to your download. You will receive a receipt of your download on your email, and a second email, announcing that your subscription to our list was successful. Also, we'll be including a removal link in every email we send you, so you can leave our list any time that suits you.
When you join our list we will send you links to our exclusive free printables or other cute freebies. We will also send you updates on our fresh new printables, tutorials and ideas. AND you will be the first to know about all our great giveaways! We completely respect your privacy and will never give your email to anyone!!!
[hr]
A few words about Anaïs Nin
Anaïs Nin was a part French part Cuban author born on 21st February 1903 in Neuilly, France. Born in a family where art was wholeheartedly appreciated, Nin began writing when she was very young. She never gained any formal education after the age of sixteen when she left school and worked as a model for an artist until her mother moved her to New York City where Nin spent most of her time writing her diaries. ~via famousauthors.org
"I believe that most things worth knowing about life can be learned from the sixteen volumes of diaries  that Anaïs Nin (February 21, 1903–January 14, 1977) began keeping at the age of eleven and continued until she died at seventy-four — things that have to do with why emotional excess is essential to creativity,why inviting the unknown helps us live more richly, how our objects define us, personal responsibility, the elusive nature of joy,writing, and the meaning of life." ~Maria Popova – Brainpickings.com
Her Diaries
 which cover over 60 years of writings and expriences, provide a deeply explorative insight into her personal life and relationships. 
[hr]