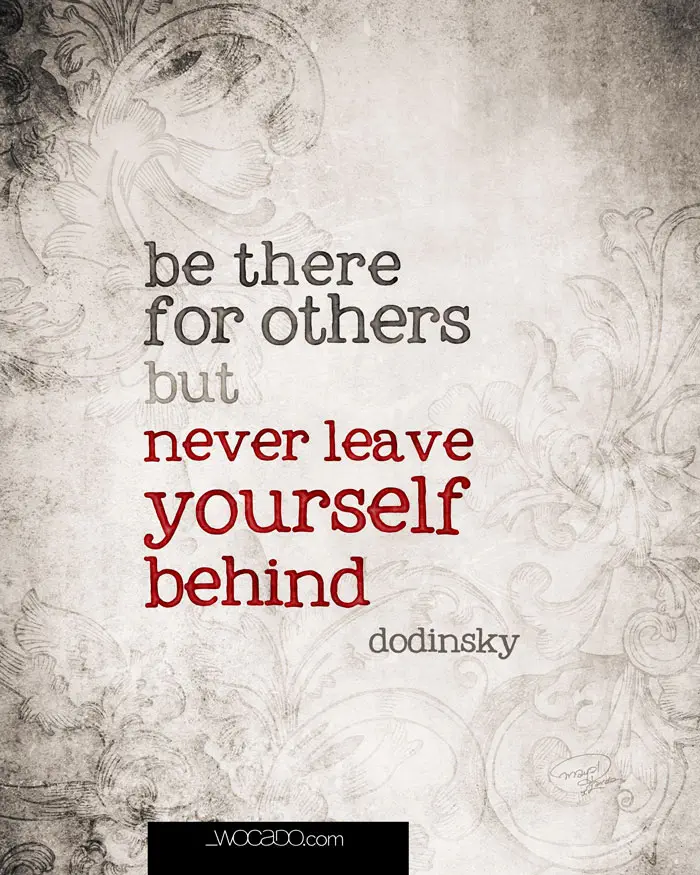 Be There for Others – Dodinsky Quote

Be there for others
but
never leave yourself behind
~Dodinsky
FREE 8X10 PRINTABLE

AVAILABLE EXCLUSIVELY TO OUR WOCADO SUBSCRIBERS
[selz link="http://selz.co/1oxwEqB" show_logos="true" text_color="#ffffff" background_color="#ff474d" type="button" position="above" interact="modal"]
File Details:
Size: 8.5 inch x 11 inch ready to print
Theme Size: The actual art theme is 8×10, and there is white border to help you either cut, or frame the print easily
Formats: 1 PDF (1.6MB)
Resolution: 300dpi
* Please note that this listing does not include a physical item. No prints will be mailed.
**Print colors may vary depending on your screen and printer.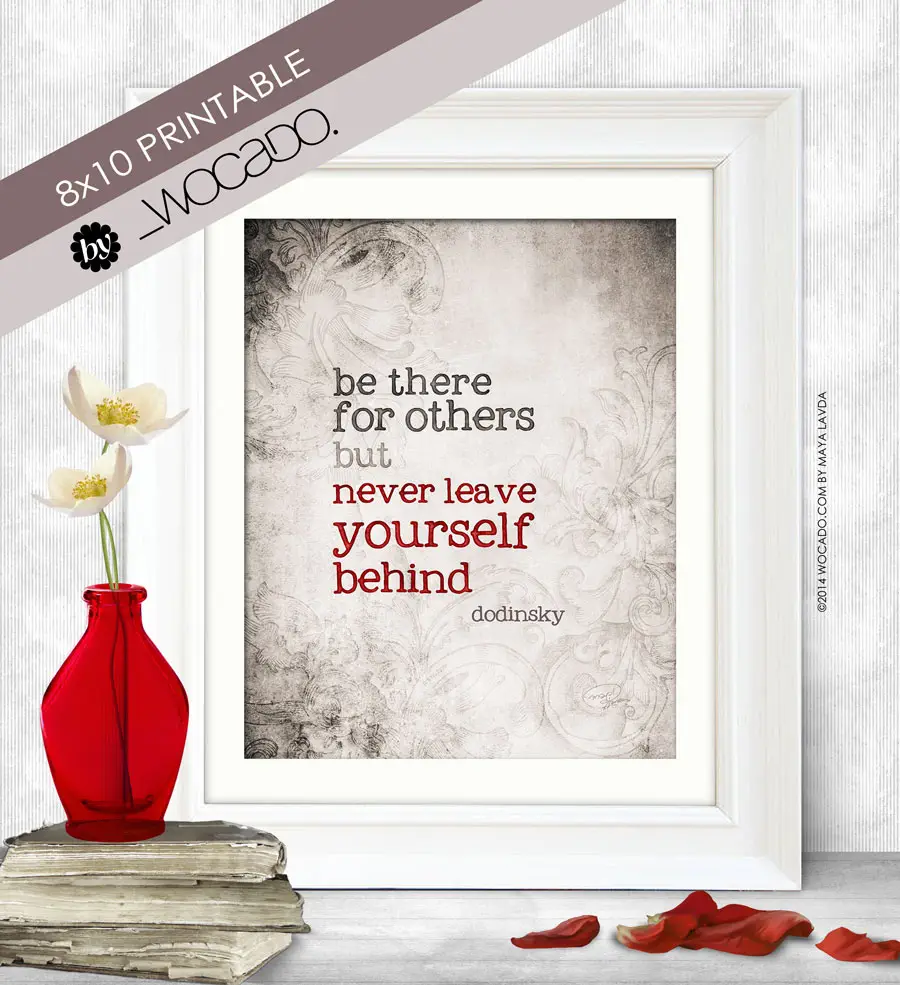 This printable is for personal use only. You can print it for yourself or as a gift for your family or friends but it can not be printed in large quantities or used for any business related purpose. If in doubt, please drop me a line!
NOTE: When clicking on the download link you will be asked for your name and email address and will be added to our list of Wocado Friends. This is a required step to proceed to your download. You will receive a receipt of your download on your email, and a second email, announcing that your subscription to our list was successful. Also, we'll be including a removal link in every email we send you, so you can leave our list any time that suits you.
When you join our list we will send you links to our exclusive free printables or other cute freebies. We will also send you updates on our fresh new printables, tutorials and ideas. AND you will be the first to know about all our great giveaways! We completely respect your privacy and will never give your email to anyone!!!
[hr]
A few words about Dodinsiky
Dodinsky is the author of the NY Times bestselling book In the Garden of Thoughts
His intent was simply to share his reflections about life in order to help heal the wounds inflicted by life's troubles. At the time, the man known by his readers as Dodinsky had no idea that within months of starting his blog In The Garden of Thoughts, thousands of readers would find healing through the modest words he planted.
"I was humbled to see that in my own little way, I was affecting the lives of others," says Dodinsky of the appreciative emails that quickly flooded his inbox. "One reader named Robin wrote, 'If only my son [had] read your works, he would still be alive today.' Robin's son had taken his own life. Like so many others, she became a loyal reader and champion of spreading his work."
It is clear from the moment one lands on "In The Garden of Thoughts" that there are many out there like Robin. The focus of Dodinsky's short writings–love, compassion, growth, tolerance, and self-worth–clearly resonate with his readers, whom Dodinsky calls "gardeners." His page has become a community in which people from all walks of life share their own stories.
"I truly believe that within us, there is a Garden of Thought in which we can find solace whenever we are going through a storm. The response to my work shows that there are many on the same path. Each of us needs words that bring comfort, and an understanding that one is not alone when facing adversity."
Source: www.dodinsky.com
[hr]