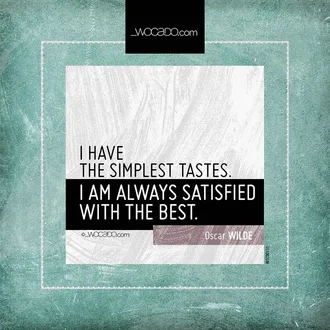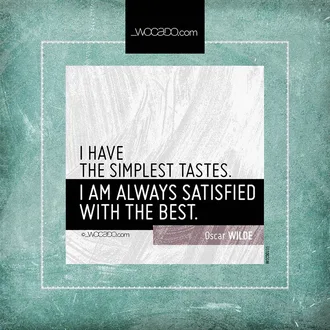 I have the simplest tastes. I am always satisfied with the best.
~Oscar Wilde
---
A few words about the author of this quote
Oscar Fingal O'Flahertie Wills Wilde (16 October 1854 – 30 November 1900) was an Irish playwright, novelist, essayist, and poet. After writing in different forms throughout the 1880s, he became one of London's most popular playwrights in the early 1890s. He is remembered for his epigrams, his novel The Picture of Dorian Gray, his plays, as well as the circumstances of his imprisonment and early death. At the height of his fame and success, while The Importance of Being Earnest (1895), was still being performed in London, Wilde had the Marquess of Queensberry prosecuted for criminal libel. The Marquess was the father of Wilde's lover, Lord Alfred Douglas. The charge carried a penalty of up to two years in prison.He was convicted and imprisoned for two years' hard labour. In 1897, in prison, he wrote De Profundis, which was published in 1905, a long letter which discusses his spiritual journey through his trials, forming a dark counterpoint to his earlier philosophy of pleasure. In 2017, with the coming into force of the Policing and Crime Act 2017, Wilde was among an estimated 50,000 men who were pardoned for his offence, as it was no longer a crime in the UK. Apart from his very known literary work, Wilde has produces important essays such as "The Soul of Man under Socialism", "The Decay of Lying", and "The Critic as Artist".
---
Do You Agree With This Quote?
Let Me Know Your Thoughts in the Comments Below!
Do You Have a Story to Share?
I 'd Love to Read it and Create Some Beautiful Picture Quotes from it! Send it over either in the comments below or from the Contact Form
Would You Like to Support WOCADO?
I love creating images that tell something, that lift us up or that caress our souls. If you would like to support WOCADO so that I can create and share more stories and thoughts with you, please consider purchasing one or more printables  or items of art and wisdom from our stores!
And Always Remember to Celebrate Life!
Thank YOU for being here 🙂 !

---