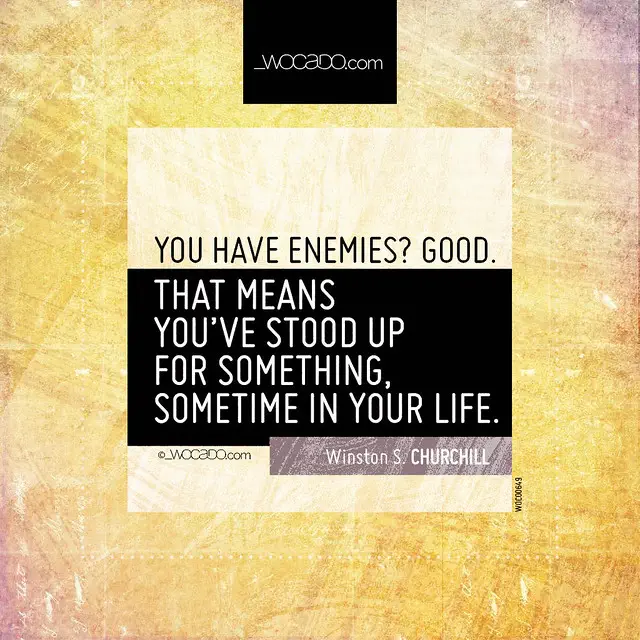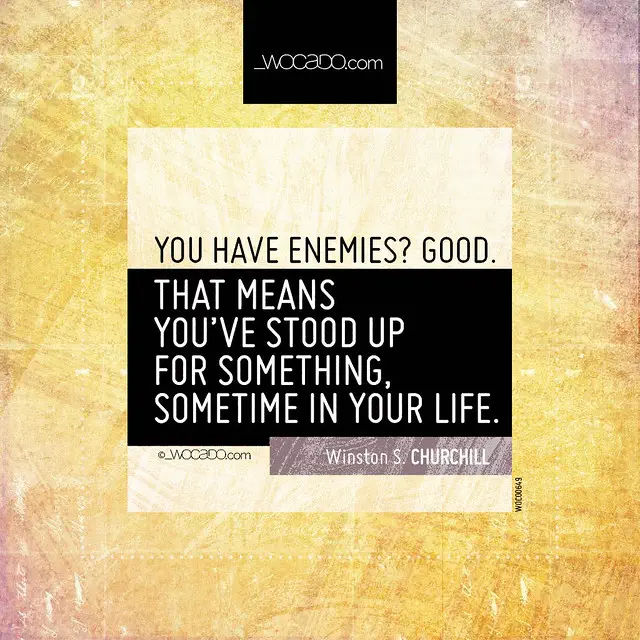 You have enemies? Good. That means you've stood up for something, sometime in your life.
~Winston S. Churchill
---
A few words about the author of this quote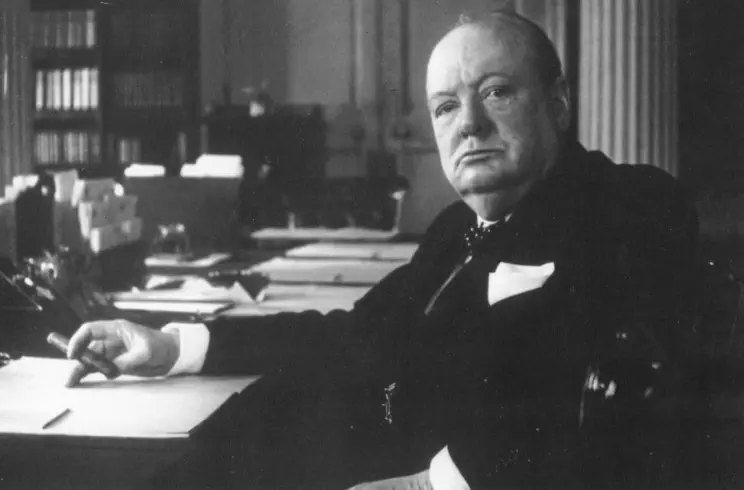 Sir Winston Leonard Spencer-Churchill, (1874-1965) was a British statesman who was the Prime Minister of the United Kingdom from 1940 to 1945 and again from 1951 to 1955. Churchill was also an officer in the British Army, a historian, a writer (as Winston S. Churchill), and an artist. He was the first person to be made an honorary citizen of the United States.He was the British Prime Minister and leader during the WW II. Named the Greatest Briton of all time in a 2002 poll, Churchill is widely regarded as being among the most influential people in British history, consistently ranking well in opinion polls of Prime Ministers of the United Kingdom. His highly complex legacy continues to stimulate intense debate amongst writers and historians. in addition to his careers of soldier and politician, was a prolific writer under the pen name "Winston S. Churchill". After being commissioned into the 4th Queen's Own Hussars in 1895, Churchill gained permission to observe the Cuban War of Independence, and sent war reports to The Daily Graphic. He continued his war journalism in British India, at the Siege of Malakand, then in the Sudan during the Mahdist War and in southern Africa during the Second Boer War. Churchill's fictional output included one novel and a short story, but his main output consisted of non-fiction. Churchill received the Nobel Prize in Literature in 1953 "for his mastery of historical and biographical description as well as for brilliant oratory in defending exalted human values".
---
Do You Agree With This Quote?
Let Me Know Your Thoughts in the Comments Below!
Do You Have a Story to Share?
I 'd Love to Read it and Create Some Beautiful Picture Quotes from it! Send it over either in the comments below or from the Contact Form
Would You Like to Support WOCADO?
I love creating images that tell something, that lift us up or that caress our souls. If you would like to support WOCADO so that I can create and share more stories and thoughts with you, please consider purchasing one or more printables  or items of art and wisdom from our stores!
And Always Remember to Celebrate Life!
Thank YOU for being here 🙂 !

---