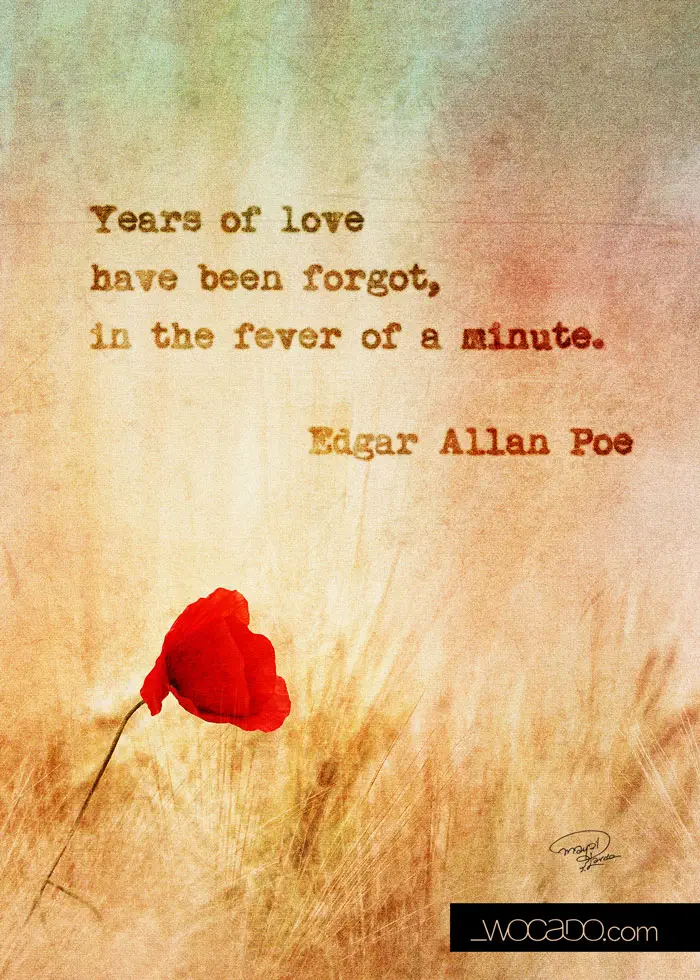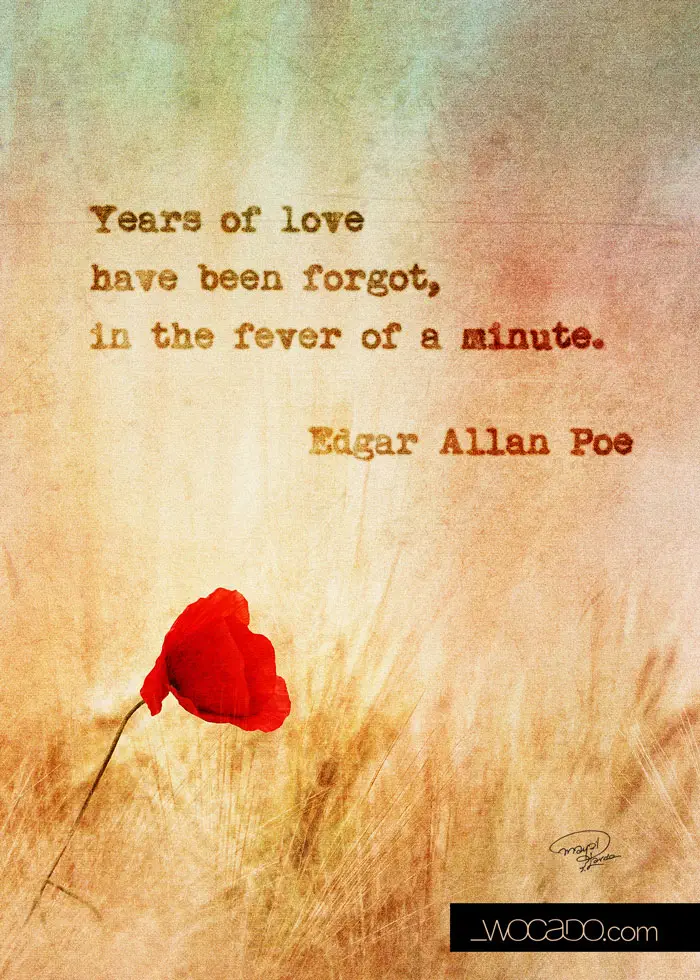 "Years of love have been forgot
In the fever of a minute"
~Edgar Allan Poe
5×7 Printable
by WOCADO
50% OFF!!
AVAILABLE EXCLUSIVELY TO OUR WOCADO SUBSCRIBERS
From the poem
To -M–
O! I care not that my earth lot
Hath little of Earth in it,
That years of love have been forgot
In the fever of a minute:
I heed not that the desolate
Are happier, sweet, than I,
But that you meddle with my fate
Who am a passer by.
It is not that my founts of bliss
Are gushing- strange! with tears-
Or that the thrill of a single kiss
Hath palsied many years-
'Tis not that the flowers of twenty springs
Which have wither'd as they rose
Lie dead on my heart-strings
With the weight of an age of snows.
Not that the grass- O! may it thrive!
On my grave is growing or grown-
But that, while I am dead yet alive
I cannot be, lady, alone.

[hr]
File Details:
Size: 5 inch x 7 inch ready to print
Formats: 1 PDF (5.8MB) in compressed ZIP file.
Resolution: 300dpi
* Please note that this listing does not include a physical item. No prints will be mailed.
**Print colors may vary depending on your screen and printer.
50% OFF!!
AVAILABLE EXCLUSIVELY TO OUR WOCADO SUBSCRIBERS
[hr]
This printable is for personal use only. You can print it for yourself or as a gift for your family or friends but it can not be printed in large quantities or used for any business related purpose. If in doubt, please drop me a line!
NOTE: When clicking on the download link you will be asked for your name and email address and will be added to our list of Wocado Friends. This is a required step to proceed to your download. You will receive a receipt of your download on your email, and a second email, announcing that your subscription to our list was successful. Also, we'll be including a removal link in every email we send you, so you can leave our list any time that suits you.
When you join our list we will send you links to our exclusive free printables or other cute freebies. We will also send you updates on our fresh new printables, tutorials and ideas. AND you will be the first to know about all our great giveaways! We completely respect your privacy and will never give your email to anyone!!!
[hr]