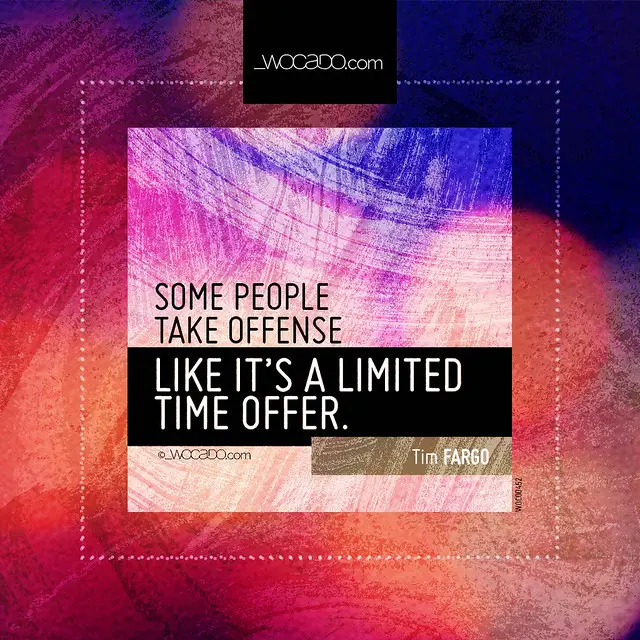 Some people take offense like it's a limited time offer.
~Tim Fargo
---
A few words about the author of this quote
Tim Fargo is an American author, keynote speaker, angel investor and entrepreneur. He is the author of Alphabet Success and Claimants and Lies and Videotape – A Claim's Handler's Guide to Surveillance. Fargo is best known for co-founding insurance fraud investigative company, Omega Insurance Service in 1996, that became the second biggest insurance fraud investigative company in the United States, acquired by First Advantage in 2003 for $20 million.] He currently serves as the President of Hammerfest Corp and writes for The Los Angeles Times, St. Petersburg Times, Business Insurance, Claims Journal and Claims magazine on the insurance sector.
---
Do You Agree With This Quote?
Let Me Know Your Thoughts in the Comments Below!
Do You Have a Story to Share?
I 'd Love to Read it and Create Some Beautiful Picture Quotes from it! Send it over either in the comments below or from the Contact Form
Would You Like to Support WOCADO?
I love creating images that tell something, that lift us up or that caress our souls. If you would like to support WOCADO so that I can create and share more stories and thoughts with you, please consider purchasing one or more printables  or items of art and wisdom from our stores!
And Always Remember to Celebrate Life!
Thank YOU for being here 🙂 !

---