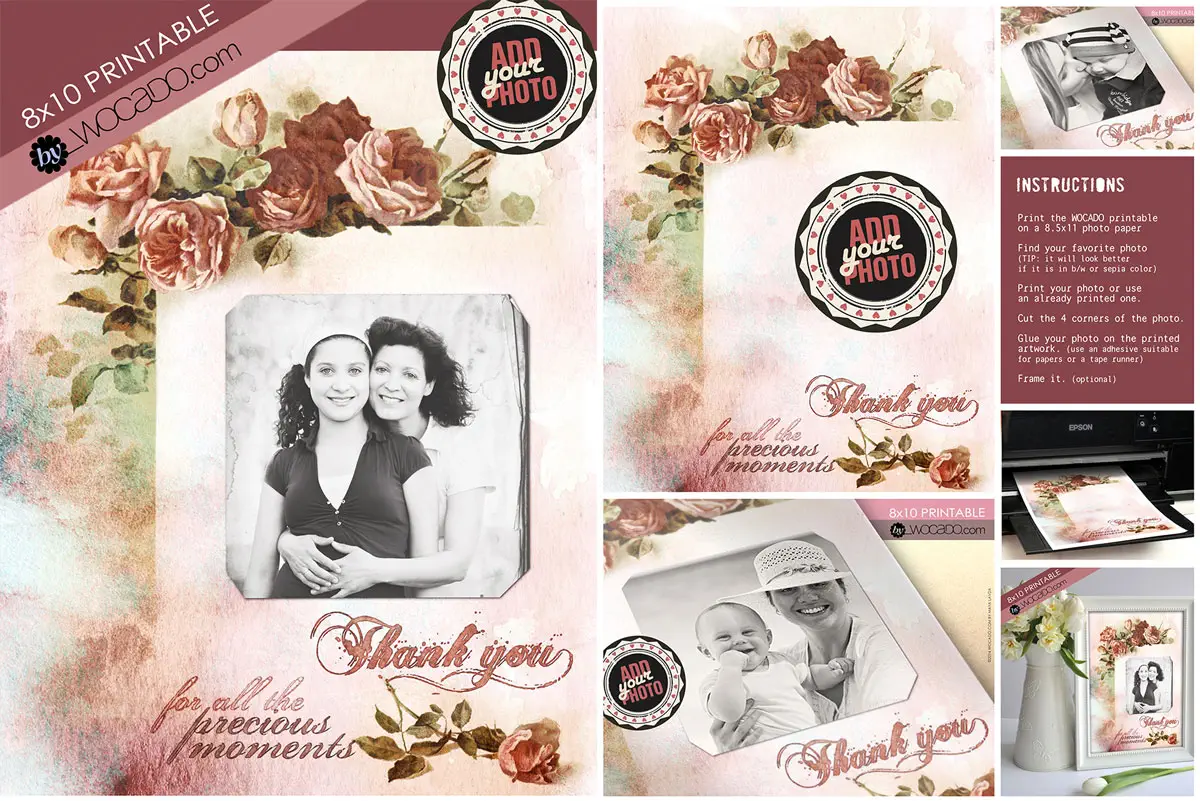 Mother's Day:
"Thank you for all the precious moments"
8×10 Customizable Vintage Printable
to add your own photo
by WOCADO
A thoughtful gift that she will enjoy for the years to come.
STILL not sure what to do for Mother's Day? Here is an idea for something incredibly thoughtful and quick!
Create a vintage art print with your favorite photo with her  that will touch her heart.
Download our customizable vintage printable, and glue your favorite photo on it. If you have an unused frame somewhere you can also frame the final creation.
Grab a rose from your garden or a florist and give your mother a memorable gift she will cherish and keep forever.
You can do this for your mother, your grandmother and even your beloved aunt or teacher.

[selz link="http://selz.co/1qqQK7J" show_logos="true" text_color="#ffffff" background_color="#ff474d" type="button" position="above" interact="modal"]
File Details:
Size: 8 inch x 10 inch ready to print
Theme Size: The actual art theme is 8×10, and there is white border to help you either cut, or frame the print easily
Formats: 1 PDF (1,5MB)
Resolution: 300dpi
No PHOTO is included. Photos shown here are used for demonstration purposes only.
* Please note that this listing does not include a physical item. No prints will be mailed.
**Print colors may vary depending on your screen and printer.
This printable is for personal use only. You can print it for yourself or as a gift for your family or friends but it can not be printed in large quantities or used for any business related purpose. If in doubt, please drop me a line!
NOTE: When clicking on the download link you will be asked for your name and email address and will be added to our list of Wocado Friends. This is a required step to proceed to your download. You will receive a receipt of your download on your email, and a second email, announcing that your subscription to our list was successful. Also, we'll be including a removal link in every email we send you, so you can leave our list any time that suits you.
When you join our list we will send you links to our exclusive free printables or other cute freebies. We will also send you updates on our fresh new printables, tutorials and ideas. AND you will be the first to know about all our great giveaways! We completely respect your privacy and will never give your email to anyone!!!
[hr]