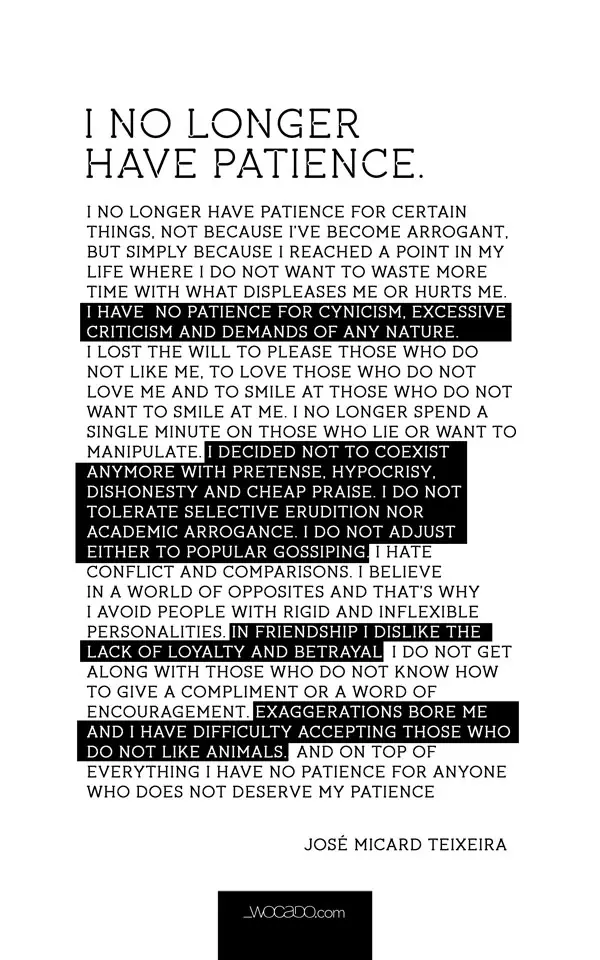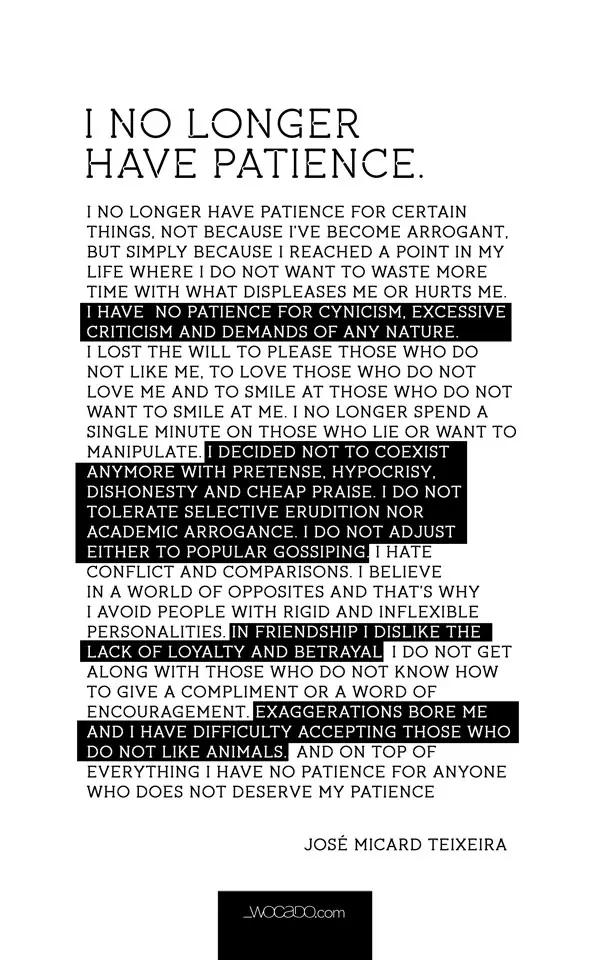 I No Longer Have Patience Quote
11×17 Printable Poster by WOCADO

If you prefer to have the printed poster
you can order a poster or artprint or card
from our online shop on RedBubble
I no longer have patience for certain things, not because I've become arrogant, but simply because I reached a point in my life where I do not want to waste more time with what displeases me or hurts me. I have no patience for cynicism, excessive criticism and demands of any nature. I lost the will to please those who do not like me, to love those who do not love me and to smile at those who do not want to smile at me. I no longer spend a single minute on those who lie or want to manipulate. I decided not to coexist anymore with pretense, hypocrisy, dishonesty and cheap praise. I do not tolerate selective erudition nor academic arrogance. I do not adjust either to popular gossiping. I hate conflict and comparisons. I believe in a world of opposites and that's why I avoid people with rigid and inflexible personalities. In friendship I dislike the lack of loyalty and betrayal. I do not get along with those who do not know how to give a compliment or a word of encouragement. Exaggerations bore me and I have difficulty accepting those who do not like animals. And on top of everything I have no patience for anyone who does not deserve my patience.
Wow ! This is so profound and wise. I wish we could all have this kind of wisdom the earliest possible in our lives. I wish we could not have to grow older to realize the truth in these words. And I hope younger people will benefit from these thoughts. The sooner, the better. Although -inevitably- wisdom and self-discovery come with age most of the times. Not to mention, that in some cases, they never come at all.
UPDATE:
I originally posted this as a Meryl Streep Quote. This is a misinformation that was wide-spread on facebook these days and it is totally wrong.
The above text was written and published by the great Portuguese Author, José Micard Teixeira!
My sincere apologies to Mr Teixteira!
If you like these beautiful words by Mr. Teixeira, my guess is you would also like another post I have made earlier : "My Soul is In a Hurry".
Check it out!