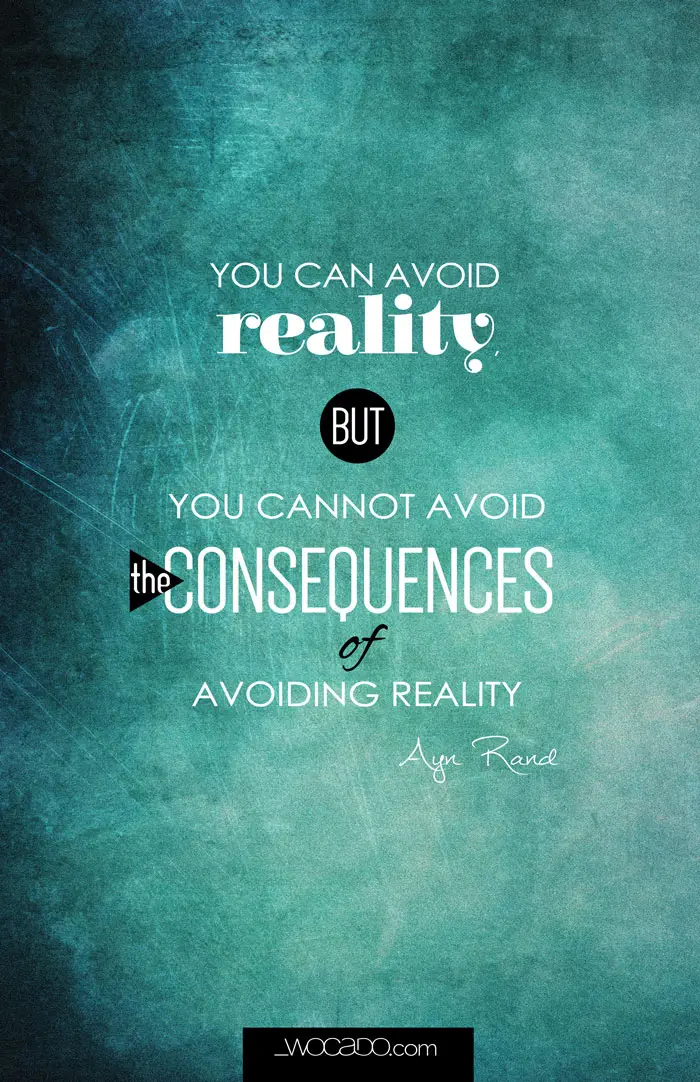 You can avoid reality
Ayn Rand Quote
Printable 11×17
by WOCADO
INSTANT DOWNLOAD
50% OFF
EXCLUSIVELY for our WOCADO friends
[selz link="http://selz.co/1n8ezvd" show_logos="false" text_color="#ffffff" background_color="#f42268″ type="button" position="default" interact="modal"]
"You can avoid reality,
but you cannot avoid
the consequences
of avoiding reality."

~ Ayn Rand
This printable is for personal use only. You can print it for yourself or as a gift for your family or friends but it can not be printed in large quantities or used for any business related purpose. If in doubt, please drop me a line! NOTE: When clicking on the download link you will be asked for your name and email address and will be added to our list of Wocado Friends. This is a required step to proceed to your download. You will receive a receipt of your download on your email, and a second email, announcing that your subscription to our list was successful. Also, we'll be including a removal link in every email we send you, so you can leave our list any time that suits you. When you join our list we will send you links to our exclusive free printables or other cute freebies. We will also send you updates on our fresh new printables, tutorials and ideas. AND you will be the first to know about all our great giveaways! We completely respect your privacy and will never give your email to anyone!!!
---
A few words about Ayn Rand
Ayn Rand was an American novelist, philosopher and screenwriter. She is known for her two best-selling novels, The Fountainhead and Atlas Shrugged, and for developing a philosophical system she called Objectivism.
(Wikipedia)
Ayn Rand's first novel, We the Living, was published in 1936. With the publication of The Fountainhead in 1943, she achieved spectacular and enduring success. Through her novels and nonfiction writings, which express her unique philosophy, Objectivism, Rand maintains a lasting influence on popular thought.
If you are interested to explore and learn more about her revolutionary philosophy of Objectivism, you can follow the free multimedia courses offered by the Ayn Rand Institute Campus. You can read more about Ayn Rand and all the possibilities like internships, clubs, discussion groups for students of all aspects of life, education and knowledge offered by ARI at her official website.