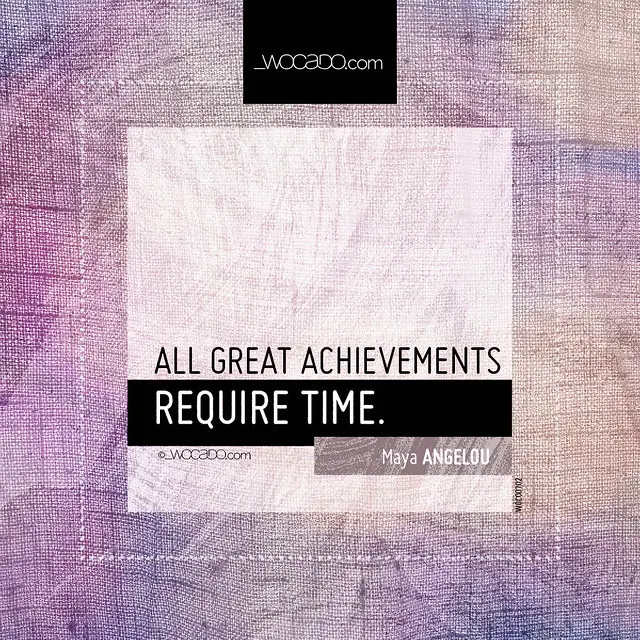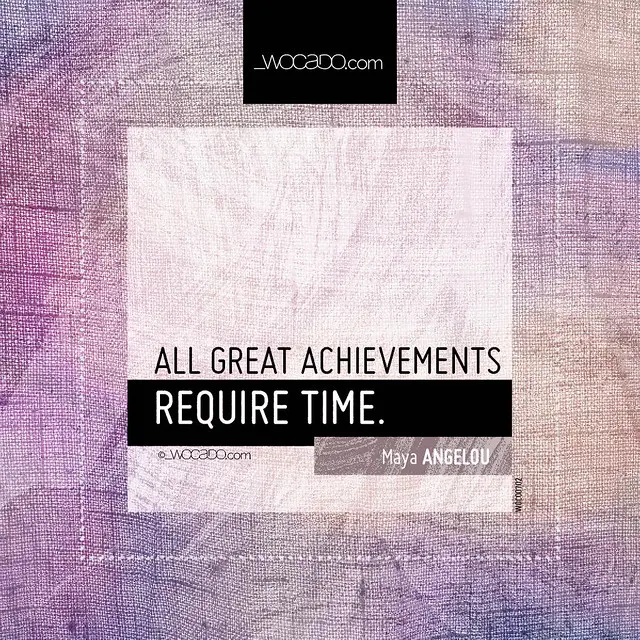 All great achievements require time.
~Maya Angelou
---
A few words about the author of this quote
Maya Angelou (born Marguerite Annie Johnson; April 4, 1928 – May 28, 2014) was an American poet, memoirist, and civil rights activist. She published seven autobiographies, three books of essays, several books of poetry, and was credited with a list of plays, movies, and television shows spanning over 50 years. She received dozens of awards and more than 50 honorary degrees. Angelou is best known for her series of seven autobiographies, which focus on her childhood and early adult experiences. The first, I Know Why the Caged Bird Sings (1969), tells of her life up to the age of 17 and brought her international recognition and acclaim. She became a poet and writer after a series of occupations as a young adult, including fry cook, sex worker, nightclub dancer and performer, cast member of the opera Porgy and Bess, coordinator for the Southern Christian Leadership Conference, and journalist in Egypt and Ghana during the decolonization of Africa She was active in the Civil Rights Movement and worked with Martin Luther King Jr. and Malcolm X. In 1993, Angelou recited her poem "On the Pulse of Morning" (1993) at President Bill Clinton's inauguration, making her the first poet to make an inaugural recitation since Robert Frost at President John F. Kennedy's inauguration in 1961. Her works are widely used in schools and universities worldwide although attempts have been made to ban her books from some U. S. libraries. Angelou's most celebrated works have been labeled as autobiographical fiction, but many critics consider them to be autobiographies. She made a deliberate attempt to challenge the common structure of the autobiography by critiquing, changing and expanding the genre. Her books center on themes such as racism, identity, family and travel.
Website // Facebook // Instagram
---
Do You Agree With This Quote?
Let Me Know Your Thoughts in the Comments Below!
Do You Have a Story to Share?
I 'd Love to Read it and Create Some Beautiful Picture Quotes from it! Send it over either in the comments below or from the Contact Form
Would You Like to Support WOCADO?
I love creating images that tell something, that lift us up or that caress our souls. If you would like to support WOCADO so that I can create and share more stories and thoughts with you, please consider purchasing one or more printables  or items of art and wisdom from our stores!
And Always Remember to Celebrate Life!
Thank YOU for being here 🙂 !

---